12th Dec 2020
Recipes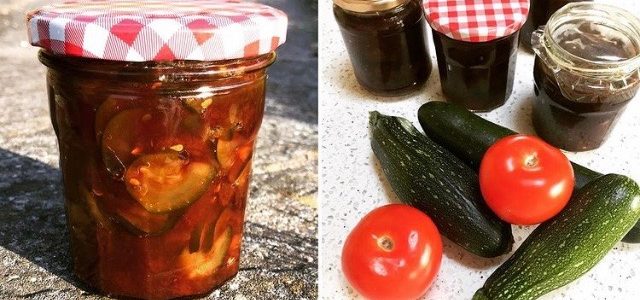 Preserve a summer veg'
If you grow courgettes and suddenly find your plants are producing faster than you can consume, this is a great way to preserve a few.  Even if you don't grow your own, buy a few extra in late summer when they're in season and cheap.
This recipe is simple to make, delicious to eat and will go well with cheese, cold meats and just about anything you choose to partner it with.  The recipe makes about 3 lbs, so sterilise some clean jars and lids, and get chopping!
700 g courgettes
100 g finely chopped onion
200 g ripe tomatoes
100 g washed sultanas
450 g sugar
1  1/2 tbsp salt
1 tbsp grated orange rind
1 tsp cinnamon
320 ml white wine or cider vinegar
50 g finely chopped walnuts – optional
Top and tail the courgettes, then slice them in half down their length, before slicing them across – finely – to produce semi circles.  Layer them in a colander with the salt, and leave for 2 hours.  This will draw out their excess moisture.  Rinse away the salty liquid on them and pat dry with a clean tea-towel.
Place them in a preserving pan with all the other ingredients, (apart from walnuts – if using), heating gently until the sugar has completely dissolved. Simmer until thickened then add the walnuts. Pour into your hot sterilised jars, top with a waxed paper disc, and seal, (unless using straight away – when the waxed disc is not really necessary).
---