13th Apr 2017
Recipes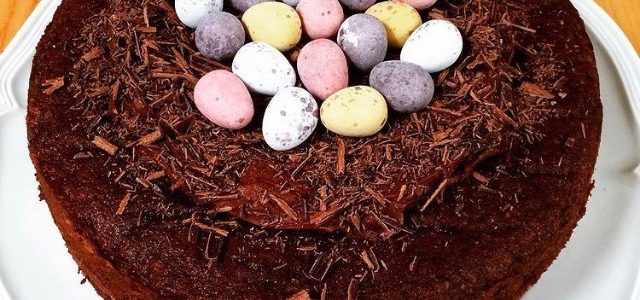 I have been asked – do I have a good gluten-free chocolate cake recipe! Well I do – as it happens –  and as my family are chocolate nuts, this is what appears on most birthdays, and instead of Simnel cake at Easter.
Pre-heat the oven to gas 4 or 170 degrees. Grease and base line x2 cake tins, 8″ diameter.
Tip: All ingredients for baking should be at room temperature, so take your pack of butter out of the fridge the night before, it creams so much better.  Likewise the eggs – that is if you normally keep them in the fridge.
You will need: a hand electric mixer,
250 g butter
200 g castor sugar
4 large eggs
75 g cocoa powder (I love 'Green & Blacks' organic one)
100 g ground almonds mixed with 75 g self raising gluten-free flour (Dove's)
1 tsp baking powder,
a glug of almond milk (cow's will do just as well).
Method: Crack the 4 eggs into a jug, lightly whisk with a fork and set aside.  Sieve into a bowl the flour, cocoa powder, baking powder and stir in the ground almonds till thoroughly mixed together.
In a separate bowl cream together the butter and sugar with an electric whisk. When light and fluffy, gradually add the eggs, a little at a time, keeping the electric whisk going. Once incorporated, gently fold in the dry ingredients, adding a glug of milk till it's a smooth dropping consistency.  Divide between your 2 tins, spreading the mixture flat.  Bake in the centre of the oven for 30 mins.  Before removing from the oven, you can test if it's done by gently pressing the surface of a risen cake, if it springs back – it's cooked.  Turn out onto a wire rack to completely cool, before sandwiching together with the chocolate cream – below.
Chocolate Butter Cream: Sieve 1 tablespoon of cocoa powder and 4 tablespoons icing sugar into a bowl, then add 120 g softened, or room temperature butter, and cream together.  Spread a little on the base of both sponges, then sandwich them together, reserving a little of the chocolate cream to spread in the centre of the top, to make the nest – which you can decorate with grated chocolate, and mini eggs.
Bake-Off! Eat your heart out!
---