16th Feb 2016
Recipes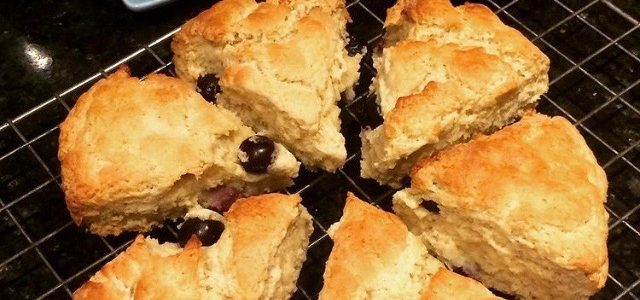 Very occasionally, even Nutritional Therapists need to indulge in something wicked!  And these scones from an earlier issue of 'Eating & Living Gluten-Free' magazine just jumped out of the page saying 'MAKE ME'!  The recipe makes 12 . . . they really were yummy . . . 
set your oven at 200 degrees, and line a baking sheet with parchment
You will need:
60 g cornflour
240 g gluten free flour;
I used a 3 way mixture of brown rice flour, tapioca flour and Doves self-raising GF flour.
1 tblsp baking powder
3/4 tsp xantham gum
1/4 tsp bicarb
1/2 tsp salt
blend/process all the above dry ingredients,
with 120 g cold butter, till the mixture resembles bread crumbs
Add 50 g castor sugar and the grated zest of one lemon
and gently stir, adding 200 g blueberries
In a jug, whisk 2 large eggs with 90 ml milk
and combine this with the dry mixture, 
(add the juice of the lemon if mixture is too dry to come together to form a soft dough).
Divide the dough into 2 balls, place them apart on your lined baking sheet,
flatten them just slightly and cut each round into 6 wedges.
Brush the top with an egg-wash or milk, and bake for 15 – 18 mins.
Transfer when cooked to a wire rack to cool, but best eaten with a little butter whilst still warm!
Mmmmm, enjoy!
---