10th Dec 2016
Recipes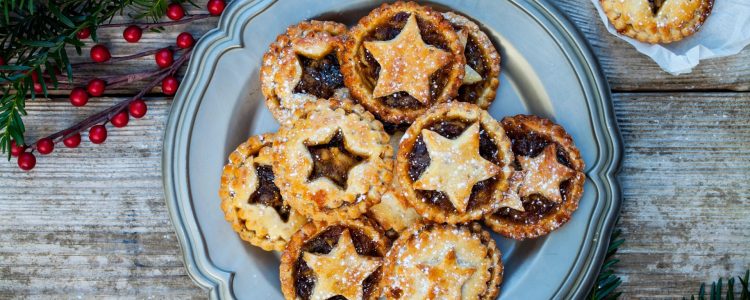 Mince pies are synonymous with Christmas, and great to have in store for visitors dropping in at Christmas. If you're gluten-free you don't have to miss out! This recipe more than passed the test in my household, and knocks the spots off shop bought ones!
It goes without saying that the mince-meat filling needs to be gluten-free too, so avoid most shop bought jars that will have both barley malt extract, and the suet ingredient will have had a dusting of flour combined to stop the grains gluing together.
You can buy gluten free suet, to use if you are making your own mince-meat, and you can buy ready-made gluten-free jars of mince-meat online too. Meridian do a lovely organic gluten-free 'mince pie filling'.
Here is the pastry recipe – your gluten-free visitors will love – set the oven at 270 degrees or gas 4 and lightly grease a bun tin.
225 g Plain white GF flour, (I use the Dove's Farm brand, which combines Rice, Potato, Tapioca, Maize and Buckwheat flour.) 50 g ground almonds, 150 g butter, 1 tsp xanthan gum, 50 g castor sugar, 1 large egg combined with 2 tbsp water.
Blitz the flour and xanthan gum with the butter in a food processor till it resembles fine breadcrumbs. Add the sugar and ground almonds and blitz again briefly. Add the egg and water and blitz till it combines into a dough. Turn out on to a generously floured work surface and gently form a flattened circle ready to roll out. Keep the rolling pin well floured as you roll out the pastry dough to approximately 3-4 mm in depth, then using a circular biscuit cutter, cut out 12 rings a little larger than the bun tin cavities. Carefully press each circle of cut pastry into the greased bun tin, place a generous teaspoon of gluten-free mince-meat into each, then using a small star cutter, cut out 12 stars from the remaining pastry and place the stars on top of each pie – as festive Christmas toppings, as per the picture. Brush the tops with egg-wash or a little milk.
Bake in the centre of the oven for 15 – 20 minutes till lightly golden, and gently lever out of the tin to cool on a wire rack.  Best eaten just warm, dusted with a little icing sugar.
Delicious!
---