Nutritious, nutty, date and cashew flapjack
28th Feb 2021
Recipes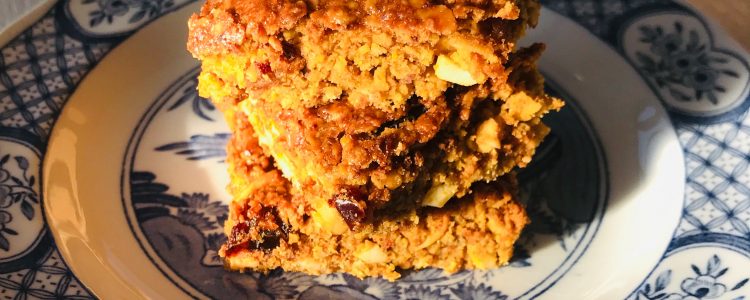 I love experimenting and adapting recipes and though I have been adding nuts – and all sorts of stealth ingredients – to my flapjacks for years now, it's normally a choice between pistachios or chopped pecans.
Today, I decided to chop up come cashews AND add a large tablespoon (or two) of cashew nut butter, just to be totally indulgent – here's the recipe (apologies for the mix of imperial and metric measurements):
Line a 10″ x 8″ (or similar) shallow tin, with baking parchment, and set the oven to 160 degrees, if using a fan oven, or 180 or gas 4 otherwise.
Roughly chop a generous handful of raw Cashew nuts, and set aside. Melt 3 oz butter and 2 oz coconut butter in a large saucepan.  Add 2 tbsp dark brown sugar, and about 120 g golden syrup (this is about 1/4 of the 454 g tin by Tate & Lyle). Add: 3 tbsp milled flax seeds (Linwoods); 6 or 7 Medjool dates, stoned and chopped; 3 tbsp ground almonds; the chopped cashews; a grind or two of sea salt; 2 (generous) tbsp cashew nut butter; and 8 oz rolled oats.  Stir well together, then crack an egg in, and stir to combine well.
Tip the mixture into your lined tin, spread evenly, flattening the mix down with a spatula, then bake until lightly golden, usually about 10 – 15 mins.
So strictly speaking, flapjacks are traditionally just oats, butter, syrup and/or sugar. But once you familiarise yourself with a few additional stealth ingredients, like nuts, milled seeds, dried fruit (I often use cranberries), maybe desiccated coconut, there's no turning back!  And these additional ingredients add a depth of flavour and so much more nutrition.  By all means have a treat – but why make it empty calories, when it can be nutritious too?
---