24th Mar 2016
Recipes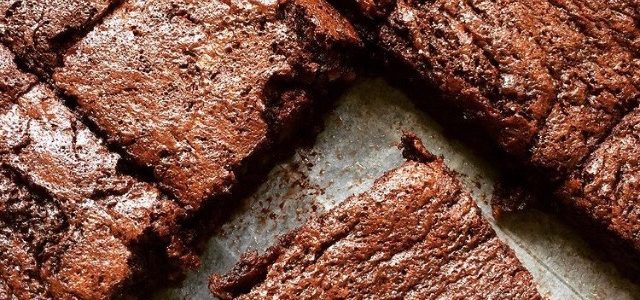 This recipe is a variation on the classic but with a few deliciously stealth ingredients added, that ensures they're really dark, gooey and a bit more nutritious.  They're very yummy and always a hit! oh and not forgetting – gluten-free too.
Oven temperature 180°C /gas 4
Baking tin:  8" square, lined with parchment (makes 8, or perhaps 12 smaller squares)
50 g/2 oz butter
50 g/2 oz coconut butter
40 g/1 ½ oz cocoa powder
2 eggs
100 g/4 oz golden castor sugar
50 g/2oz very dark brown sugar
75 g/3 oz ground almonds
50 g/2 oz pecan nuts
3 Dates
Melt the two butters together in a saucepan, stir in the cocoa powder.
Blitz the pecans, dates and dark brown sugar in a blender and set aside.
Whisk the eggs in a large bowl till pale and fluffy, gradually adding the sugar mix, continue whisking for 5 mins.  Stir in the butter/chocolate mixture, then gently fold in the ground almonds, and pour the mixture into the prepared baking tin.
Bake for 30 minutes, or until just cooked through – maybe check after 20 mins, you don't want to overcook, they are best when slightly moist.  Cool in the tin, before cutting into squares.
These will be popular – they disappear very quickly in my household!  You may need to cook double the quantity next time – in which case, using a bigger tin, consider that a larger quantity may need an extra 5 mins cooking time.
Enjoy! 
---