Pistachio Lemon Drizzle Cake
07th Dec 2020
Recipes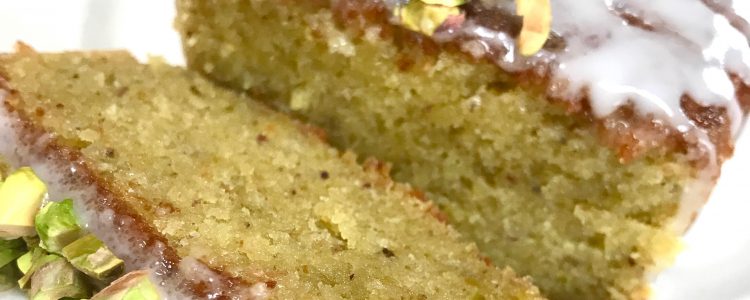 This is a simple twist on a regular lemon drizzle cake, but swapping half the flour with pistachio nuts that have been processed to a fine crumbly nut flour.  I regularly swap in a measure of ground almonds in place of flour when making cakes these days, and I think pistachios work so well with lemon drizzle, and give it a beautiful hint of green colour!
Using nuts in place of some of the flour adds protein and healthy fats, and so lowers the glycemic value of this cake.
So for a loaf tin measuring 9″ x 5″, you'll want:
150 g golden castor sugar
175 g softened butter, preferably organic
3 organic medium eggs
75 g self raising flour (I used gluten free)
100 g (shelled) pistachio nuts processed to a flour like consistency
1 tsp baking powder
2 lemons
For the drizzle and toppings:
juice of 1 large lemon
75 g castor sugar
3 tablespoons icing sugar
Preheat an oven to 180 degrees (gas make 4) and line your cake tin with parchment. Blitz the cashews until they resemble a fine powder, and 'zest' an unwaxed lemon.
With an electric whisk, beat the softened butter with the castor sugar until light and fluffy, then add the eggs one at a time, beating well after each addition.  Add the lemon zest, baking powder and both flours,  and fold gently to combine.  If you like a good lemon flavour you could add the juice of half a lemon too. Gently spoon the mixture into your tin and bake for around 40 minutes, until it's golden and just pulling away from the sides of the tin.
Mix most of the juice of one lemon with 75 g castor sugar, (reserve and set aside 3 teaspoons for the icing),  and drizzle this over the cake whilst still warm, prick the surface of the sponge with a cocktail stick to encourage it to drizzle through.
When completely cold, drizzle a lemon icing (icing sugar and 2 teaspoons of lemon) over the surface, and decorate with chopped pistachios.
I promise you – this will become a family favourite!
---