07th Dec 2020
Recipes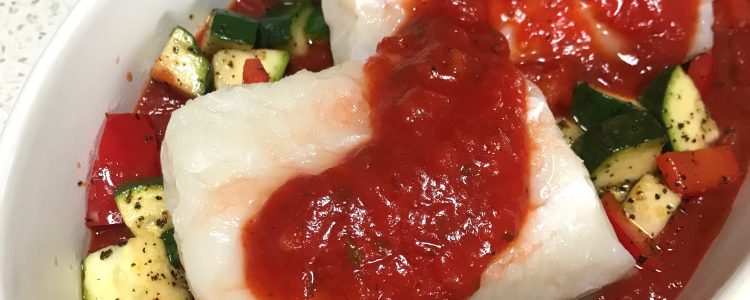 The 'Mediterranean Diet' is now well established as the healthy way to eat if you want to lower your risk of heart disease and diabetes.  Based on the traditional cuisine of countries bordering the Mediterranean Sea, there's no single definition of the diet, it is just typically high in vegetables, fruits, lean proteins, whole grains, beans, nuts and seeds, and of course olive oil.
I call this dish 'Fast Food' mediterranean style, because it's a very simple dish that literally takes minutes to prepare and could happily sit alongside any typically Mediterranean fare.
You will need:
loin of cod/haddock/white fish of choice
red onion
aubergine (optional)
red pepper
courgette
jar of shop-bought tomato passata
dried basil, or herbes du Provence
Dice and fry the red onion, add the diced aubergine and red pepper, fry for a further 5 minutes, then add sliced courgette and a generous sprinkling of herbs.  Add 2/3 of the jar of tomato passata, and when heated through, pour the contents of the pan into an oven-proof dish.  Place your fish pieces on top and pour the remaining 1/3 of the passata over the top.  Bake, covered, in an oven at 180 degrees for around 10 mins.  Make sure the fish is opaque and fully cooked – it doesn't take long, but you don't want to overcook fish.
Quick, easy, cooking from scratch, but with a little convenience thrown in for the very busy!
---