SALMON with 'chilli, ginger, convenience'
07th Dec 2020
News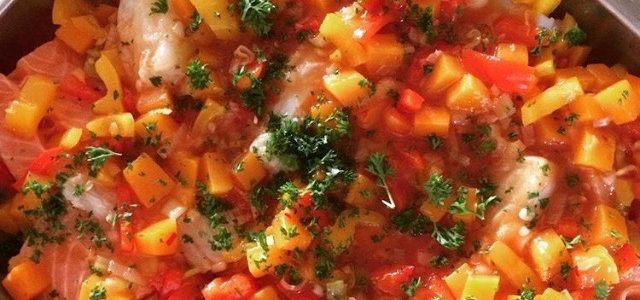 I'm not above using the odd jar of convenient, ready-prepared sauce, especially when a meal has to be produced quickly, so I always keep a jar or two of M&S 'Sweet chilli, ginger & garlic sauce' in the cupboard.  I don't actually use it as a stir fry accompaniment as the jar suggests, I use it in a baked salmon recipe that has proved very popular indeed.
I also tweak the flavours a bit by first sautéing diced pumpkin in 1/2 tsp dried ginger and 2 tsp ground coriander, until soft.  Adding a few tablespoons of water and covering the pan, so it steams as well as frying, can speed this up nicely.  I add diced red and yellow pepper after about 7 or 8 minutes, and recover the pan again.
When the veg are more or less cooked, I add the jar (or two, if cooking for more than two), of sweet chilli and ginger sauce and heat it through.  Meanwhile place salmon steaks in the base of an oven-proof dish and then pour the contents of the pan over the top, cover and bake for 10 minutes, or until the salmon is opaque and 'done'.  Sprinkle with chopped parsley – if needing to impress, and remember to hide the jar!
---